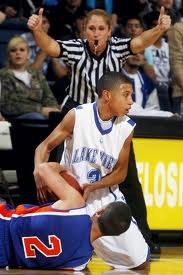 Over the last few years, the popularity of organized youth basketball and AAU basketball has created a surge in the demand for men and women that choose to become a basketball referee. There is quite simply a lot of work out there. And with teams organizing at younger and younger ages, there seems to be no letting up.
Basketball is a great game to officiate because it can be played year round. It many areas, it is equally popular outdoors in the summer as it is indoors during the winter season. Also, it has become almost as popular among the girls as the boys. And because basketball officials must move with the pace of play, refereeing is a fine way to be part of the game and stay fit at the same time.
Basketball Referee Training
To become a certified basketball referee, you must achieve a passing grade on a written rules exam. In many cases, you must also pass a floor test during which you officiate live action. This is to show that you also understand how to apply the rules in a game situation.
Because basketball referee training and certification is done on a state by state basis, you must go to the website which handles high school sports in your own state to find information about how to become a basketball referee. Go to the choose a state page to find the links for your state athletic or activities association.
Looking for a great resource for high school basketball rules? Here is the place to start: 2015-16 NFHS Basketball Rules Book
And for in-game situations and rulings, this book is excellent: 2015-16 NFHS Basketball Case Book
Basketball Referee Uniform and Equipment
Reebok Zig Energy Ref Mens Basketball Shoe
Black socks
Black slacks
Black belt (if pants are not beltless)
Black and white stripped shirt
Fox 40 whistle
Fox 40 Mini CMG Whistle, Black
Lanyard or Smitty
Pre game Jacket if required