For men and women looking to become a volleyball referee, here is information that you should know.
Certification for volleyball referees is handled by two separate organizations.
Volleyball Referee Training
USAVolleyball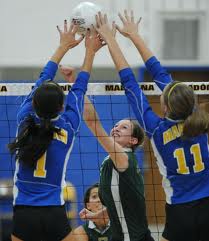 offers an extensive library of training modules and videos to assist volleyball referees with their understanding of the game. Regional referee training and testing is offered for certification.
The Professional Association of Volleyball Officials offers its own certification for volleyball referee candidates. PAVO holds local volleyball referee camps and clinics to further assist in training as well.
To learn more about becoming a volleyball official at the high school level, go to the choose a state page and follow the links to your state association.        
Here is a good resource for high school volleyball rules: 2015-16 NFHS Volleyball Rules Book
Volleyball Referee Uniform and Equipment
Plain white knit short sleeved collared shirt
Navy blue trousers
White leather shoes
Black belt
Fox 40 whistle with black lanyard
Red and yellow cards