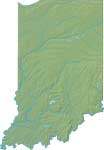 If you want to officiate in Indiana, local associations prepare sports officials to become soccer, basketball, football, lacrosse, hockey, volleyball and wrestling referees as well as softball, baseball, and field hockey umpires.
Learn how to become a referee or umpire in Indiana by following the links below. Referee training in Indiana can be found here as well.
Candidates are certified through the Indiana High School Athletic Association. A passing grade of 75%  on an online, open book test is required to become licensed. For more information about becoming an Indiana referee click here.