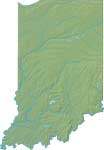 To become a referee in Indiana, begin by registering with the Indiana High School Athletic Association. The IHSAA licenses officials for the following sports: soccer, basketball, football, volleyball, wrestling, swimming, gymnastic, baseball, softball and track & field/cross country.
To begin the registration process, all you need is an email address. Once you complete the on-line form and submit your payment information, you will be sent the rule books and study information that you will need to get started. An Indiana sports official must also be a high school graduate and pass a criminal background check.
Testing dates begin June 1st for the fall sports, September 1st for the winter sports and January 9th for spring sports. The open-book test for certification can be completed on-line. A passing score of 75% or better is required.
The officiating test is 100 questions and it is not timed. If you fail at the test, you will need to wait another program year to try again. Any fees paid at that point are not refundable.




Local IHSAA Officials Associations
Once you pass the exam, plan to join the referee or umpire association in your area. There are 24 such organizations located throughout the state. Each year that you plan to officiate, you must attend a rules interpretation meeting in order to keep up to date on rule changes and points of emphasis in your sport.
For more information visit the IHSAA website.