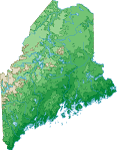 Local associations prepare sports officials to become soccer, basketball, football, lacrosse, hockey, volleyball and wrestling referees as well as softball, baseball, and field hockey umpires.
Learn how to become a referee or umpire in Maine by following the link below. Referee training in Maine can be found here as well.
The Maine Principles Association provides a list of contacts for each sport requiring certification. From this page you can find the various interscholastic activities contacts.
Find more information about being a sports referee or umpire in our referee training area. Topics include: