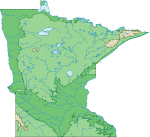 Local associations prepare sports officials to become football, basketball, soccer, lacrosse, hockey, wrestling and volleyball referees as well as softball, field hockey and baseball umpires.
Learn how to become a referee or umpire in Minnesota by following the links below. Referee training in Minnesota can be found here as well.
The Minnesota State High School League oversees athletics. Official registration and testing is done through local league offices. Candidates are encouraged join a local board for further training, mentoring and assistance in getting game assignments. Here is a brochure explaining the process.
Find more information about being a sports referee or umpire in our referee training area. Topics include: