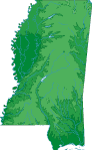 To referee high school sports in Mississippi you must be registered with the Mississippi High School Activities Association. Registration is handled through local associations.
The MHSAA oversees officials for many sports including: basketball, baseball, football, soccer, volleyball, golf, track & field, swimming and wrestling. To become an official you must be 18 years or older and a high school graduate. An advance payment of $40 is required.
Through their local board, officials are required to attend a minimum of five yearly meetings. These meetings help referees and umpires with rule updates, points of emphasis and unique situations. All of this is in the interest of helping us to become better officials.
Another requirement is that officials attend a yearly rules interpretation clinic for any sport that they referee.




Mississippi officials are also required to provide a certificate of good health, signed by a physician. This shows that they are physically able to handles the rigors of their sport.
For more information, visit the official's page of the MISSHSAA website. To find your local association, I suggest you use the contact us page.