Sports officiating is not an easy job. Every sporting event presents its own level of challenges to be handled by the referee or umpire. Referee training prepares us for these challenges and helps us to manage a fair game for the athletes.
Referee and umpire training teaches us many things. These include:
*How to understand and interpret the rules of the game,
*How to position ourselves to see the play and make the right call,
*How to use correct signals and mechanics to communicate,
*How to deal with difficult situations.
Referee training opportunities are available on both local and national levels. If you want to learn a sport, improve and advance, there are referee and umpire camp
s, clinics and schools in most every sport to help you do just that.
The links below present some of my thoughts about being a referee. Below that are links to websites which offer referee and umpire training on a national level. Keep in mind that there are tremendous opportunities to learn on a local level. Look first to your local board or local chapter to find training opportunities in your area. For most states, this is where hands-on referee training takes place. Go to the "Choose a State" link in the top navigation to find referee training in your state.
Nine Reasons to Become a Referee,
The Importance of Good Referee Signals,
Guess What…Referees Miss Calls!,
Three Tips for Working with Coaches,
Referee the Simple Things Before the Game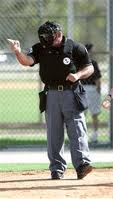 Baseball Umpire Training – http://www.umpireacademy.com/
Softball Umpire Training http://www.softball.org/umpires/index.asp
Field Hockey Umpire Training http://usafieldhockey.com/umpires/briefings-camps-clinics
Volleyball Referee Training – http://www.volleyballreftraining.com/
Basketball Referee Training
http://www.asep.com/courses/asep_previews/asep_662_preview/index.cfm
Hockey Referee Training
http://www.usahockey.com/Template_USAHockey.aspx?Nav=OF&ID=19976
Soccer Referee Training – http://soccer.org/coaches_referees/referees.aspx
http://www.ussoccer.com/Referees/Resource-Center-Deactivated.aspx
Lacrosse Referee Training  http://www.uslacrosse.org/TopNav2Right/EducationTraining/OfficialsTrainingPrograms.aspx