Being a sports official is not an easy job. Every game is unique and presents its own set of challenges. Like any other profession, training is essential to success.
Referee training is about many things. It starts with the rules. First we must learn the rules of our sport. Not some of them, all of them…and understand how to apply those rules to in-game situations. Even seasoned officials are back in the book every year, reviewing rules and situations.
Next we need to learn the signals and positions of our sport. Referee signals are our way to communicate with everyone else. The best referees and umpires usually have outstanding signals and mechanics.
We need to learn how to deal with coaches. This is a part of the game that goes beyond the rules, but it is vital to good game management. Much of this we learn through experience, practice and through talking with other officials.
We need a short memory. While most of our games will run smoothly, not all of them will. It could be because of a difficult situation or a missed call by the referee. But whatever happens in our games, we need to learn to accept and move on.
Finally, when the time comes, we must be prepared to referee. If we referee the simple things, we will be ready to go once we step out onto the court, rink or field. Master this part of the job and the game will be a lot easier to manage.
Referee training opportunities are available on both local and national levels. If you want to learn a sport, improve and advance, there are referee and umpire camps, clinics and schools in most every sport to help you do just that. Below are links to websites which offer referee and umpire training on a national level.
Keep in mind that most opportunities to learn to referee or umpire take place close to home. Look first to your local board or local chapter to find training opportunities in your area. For most states, this is where hands-on referee training and certification takes place. Go to the Choose a State page to find referee training in your state.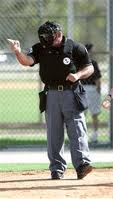 Baseball Umpire Training – http://www.umpireacademy.com/
Softball Umpire Training http://www.teamusa.org/usa-softball/umpires/national-umpire-schools
Field Hockey Umpire Training http://usafieldhockey.com/umpires/briefings-camps-clinics
Volleyball Referee Training – http://www.volleyballreftraining.com/
Basketball Referee Training
http://www.asep.com/courses/asep_previews/asep_662_preview/index.cfm
Hockey Referee Training
http://www.usahockey.com/Template_USAHockey.aspx?Nav=OF&ID=19976
Soccer Referee Training – http://www.ussoccer.com/referees
http://www.ussoccer.com/referees/resource-center
Lacrosse Referee Training  http://www.uslacrosse.org/officials/become-an-official