Many youth sports leagues use referees that are certified to work high school games to officiate their contests as well. Youth basketball is a good example. In most cases, the referee working a youth basketball game is trained by National Federation of State High School Associations (NFHS) rules, which are the rules used at the high school level. One reason for this is that youth basketball does not have its own program to certify referees. Instead it uses the pool of local high school referees.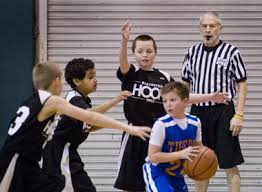 Of course youth sports leagues are free to create their own policies with regard to officials. If they decide to have games refereed by coaches, parents or players, they are able to do that. However, you will find that competitive leagues, especially those that involve multiple towns or cities, will use high school certified referees. So, if you want to become certified to referee youth football or youth basketball, follow the steps outlined earlier and become a high school referee first.
Some sports offer their own certification at the youth level. Although the rules and signals taught may be similar to those taught to high school officials, they are not always the same. These sports therefore create their own training and testing programs. They include Little League Baseball, youth soccer, youth hockey and youth lacrosse.