The first Little League baseball games were played back in 1939 between two teams from central Pennsylvania. In 1974 Little League softball gave girls a league of their own. Today there are more than 7000 leagues and over 2.5 million participants. Needless to say, they need lots of umpires!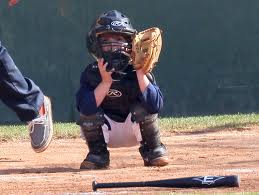 Little Leagues are literally everywhere. And if you want to umpire the league nearby, you should not have to look very far. Because each Little League operates in its own area, chances are there is one in within your community. To become a Little League umpire, contact the league closest to you to offer your services. Here is a link to the Little League website which can help you locate a local program: http://www.eteamz.com/llb/finder/index.cfm?m=1,2,3,4,5.
Little League Umpire Pay
Umpire pay seems to be an ongoing debate for those involved with Little League baseball and softball. The national Little League organization feels strongly that umpires should be volunteers, no different from coaches or people helping out with the concessions. For them, volunteerism is part of the fabric of Little League and it should be practiced by all who help run the games.
Unfortunately, what sounds good in theory is not always practical in the real world. It can be difficult to find enough people willing to volunteer their time. To increase their pool of competent umpires, many programs choose to pay their umpires a nominal amount. The amount paid is often less than the going rate for similar referee type activities. So in some respects there is a level of personal giving involved. However, it does in increase the pool of qualified people willing to umpire. Pay ranges can go from a low of $10 per game up to $35 or higher. It is true, however, that if you want to advance to work Little League sanctioned tournament level games, you must umpire your games on a fully volunteer basis.


Little League Umpire Camps and Clinics
On a national level, Little League offers spring and fall clinics at their home site in Williamsport, PA. The clinics teach proper mechanics and signals as well as the rules of Little League Baseball and Little League Softball. Due to the limited number of spots as well as the relatively low cost, the clinics provide a great opportunity to become a better Little League umpire.
In addition to the clinics, Little League also offers a week-long umpire school which provides even more extensive training for umpires. The school is held in Williamsport, PA as well. The school provides a more in-depth look at rules, interpretations, mechanics, philosophies and game control. Once again the cost is quite reasonable considering the degree of training involved as well as the room and board provided.
Local Umpire Training
Most local Little League baseball and softball programs offer some degree of training for their umpires as well.  Any experienced referee or umpire knows that there is a lot more to calling and managing a ballgame than just knowing the basic rules. For the volunteer umpire with little or no experience, local training is essential to providing good quality, competent umpiring.