To become a USA Hockey certified youth hockey referee, you must first register with USA Hockey. Since there are no age restrictions to becoming a youth hockey referee, this is a great opportunity to become a referee at a young age. Here is the link to the registration page: https://www.usahockeyregistration.com/login_input.action.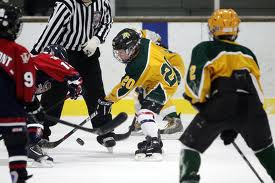 When you reach the registration page, click "Ice Officials" and "Register now". Online registration for new referees is not available year round. If USA Hockey is not accepting applications for new referees, you will be given a date to return and register (usually August 1st).
For hockey referee candidates under the age of 18, here are a couple of things to keep in mind. First, you should check with your local Referee-in-Chief to see if there are age restrictions to being a referee in your state. This link will help you find your local Referee-in-Chief:  http://www.usahockey.com/page/show/898352-national-officiating-directory.
You should register only if you are old enough to legally work in your state.   Second, if you are under the age of 18, a parent or guardian must complete the online registration form for you.
Once your registration has been accepted, you will be sent a copy of "USA Hockey Playing Rules and Casebook" along with a USAH officiating number. Read and reread the rulebook to gain the core knowledge needed to be a good official. The casebook will provide examples of game situations to apply the rules you have learned. This is the most important part of being a successful referee. You must be able to take the rules you have learned and quickly apply them to things that occur on the ice. Doing this consistently and confidently will help you become a respected hockey referee.
USA Hockey recommends that you attend one of their officiating seminars before you take their exam. All USA Hockey referees must attend a rules seminar yearly in order to continue to referee. By attending the seminar before you take the exam you will gain better knowledge of the rules and fulfill seminar requirement. Before you register, be sure that you will be able to attend one of the required seminars. Registration fees are non-refundable.
The online exam is open book and contains no time limit. You can answer a few questions one day and return another day to continue. The exam is available within 24-hours of registration. However, it is best that you wait until you review your rulebook and attend the officiating seminar before completing the exam.
Once you pass the exam, you will be sent your USA Hockey officiating card and sweater crest. Congratulations, you are now a USA Hockey Referee!